Thank you for visiting our Internet site. As an up-to-date business, we want to give you the opportunity to stay in touch with Custom Strings and our work.

The emphasis of our site is on information and connectivity to and within the music community of the Inland Northwest and in matters of instrument performance, care and construction.

You can reach us at (509) 891-1243. We are looking forward to hearing from you. You can also contact us at our e-mail address: contact_us@customstrings.net or check us out on Facebook

If you are not familiar with our company and your first contact with us is online: We would be pleased to hear from you! Please let us know what your needs and questions are, we will be more than happy to help.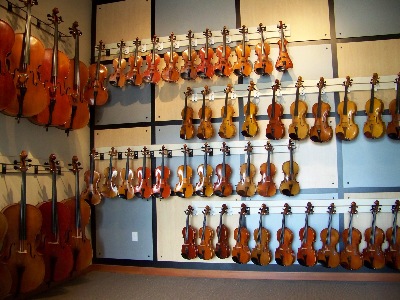 In brief, you should know the following about us: Custom Strings was established in 2003 and has been responsible for providing outstanding service and products ever since. Our specialty is in sales and service of new, used, vintage and custom made Violins, Violas, 'Cellos and Basses, as well as expert and affordable restorations, repairs, custom adjustments, consultations and appraisals. Our regular customers particularly value our friendly honesty and that we are musicians ourselves. After all, you wouldn't accept advice about buying a car from a person who couldn't drive. Our business is located at 11511 E. Trent Ave., Spokane Valley, Washington.